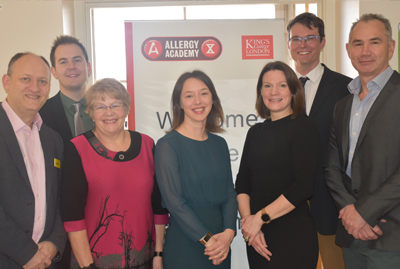 Our sponsors
We aim to provide high quality educational opportunities to as many people as possible. This is only possible with the support of our sponsors.
ALLERGY ACADEMY 10 YEAR ANNIVERSARY
We were first established as a response to the House of Lords Science & Technology Committee report into Allergy services, where the challenge was laid down to provide a more accessible and comprehensive educational offering.
We have run courses internationally for a wide range of learners; from trainees, GP, to consultants, expert nurses, health visitors, dietitians and school nurses. We are familiar with large congress events and practical seminars which are designed to transform the care you can deliver to patients. Our education is at the cutting edge of care in allergic disease, and our recommendations represent best practice from primary through to quaternary care.
We have taken the exciting step to offer all our large study days as 'Allergy Online' streaming events, whilst maintaining our practical 'Allergy in Practice' seminar teaching in-person at-physical-distance. We have a strong relationship with our technical delivery and audio-visual teams and are confident that we are bringing a flexible and innovative approach for you to curate your learning around our events and recorded library of materials support within the Allergy Academy website.
The generosity and support of our sponsors has allowed us to keep delegate expenses very low, and maintain the dedication and expertise of the many speakers who contribute to our cutting-edge offering. We look forward to hearing from you - sign up, sign in and let's hear your questions and views!
Welcome to 2022 and to #ALLERGYONLINE! We are bringing all the Allergy Academy expertise, international speakers, practical tips and news about allergy developments to your very own devices with our upcoming study days and courses!
THE NEED: Those living with allergies are suffering from less access to healthcare and greater difficulty in finding expert advice. Our health professional community is emerging from lock-down with enormous waiting lists, restricted times for patient appointments and less clinical capacity among their teams.
THE SOLUTION: Our online study days are designed to support your timely recognition, fast decision-making and safe management for the wide range of allergic diseases and related disorders. Our days have been tailor made for healthcare professionals for the past 12 years, and now we are able to extend our online reach further to offer access across the country and more widely.
We are offering a truly remarkably interactive webinar platform that enables you to ask questions of the speaker throughout the presentations, chat with other delegates online and vote in presenters' polls. Never before have we been able to roll out such high quality expert interaction on such a scale, and we are excited to grow into this new scale of opportunity!
HIGH QUALITY: Our days are run from King's College Hospital by clinical professionals from Guy's and St Thomas' Hospitals and the wider team of global specialists across the UK and beyond.
PROLONGED ACCESS: We live-stream talks with chair-coordinated questions, and offer online viewing of the recordings to registering delegates within the same Study Day Webinar Site for one month afterward and then transfer these to our Talking Slides Library of talks. Whether you may be watching from work, from home, in the evenings or between on-call shifts, this event is designed to ensure you will not miss out on the opportunity to improve your practice.
SUBSIDISED COST: The cost of running these widely respected study days is subsidised by our sponsors, to whom we are grateful at this testing time of tight margins and limited budgets for education.
THE FUTURE: We are liaising with a wide range of health care medical groups, experts, Medical Colleges and Commissioners to enhance this offering and the scale of our Study Days. We are now able to grow our education, engage even-wider expertise and offer you the very latest, the safest and best from the Allergy Academy!